Writers often talk about "the voices in my head" as part of the creative process. I too am afflicted with characters who talk to me, often in the form of dialogue. Two particularly troublesome characters, Utara Fireheart and Gemini Reed, each seemed to enjoy giving me a piece of her mind about where their respective characters were going. For Utara, that might have been because she was a bit of enigma at first. Gemini, on the other hand, was quite clear to me from the beginning. One thing they have in common is that both characters have their heads on straight.
Gemini is my main character Vespa's heroic foil and also a rock steady presence in her life as her best friend. That's why it surprised me when, during one particular moment in the story, I sketched out a scene where she has an anxiety attack. For a while I hesitated on putting this moment of weakness in the story. When I described the idea, my editor B.J. also wondered if it was too off-track for the themeline, which we both knew needed to stay focused on Vespa's journey. Yet Gemini insisted that I write the scene. By insisted I mean that I would shut my eyes to sleep and the images would take over my dreamscape. Gemini is a dauntless character, so finally I acquiesced and wrote the scene, and left it in during the first proof run. When he read it in the context of the entire section of the story, B.J. started to see where Gemini was coming from, and how her moment related to her arc in relation to Vespa's. When I later sent the story to my beta-readers I also left the scene in, without commenting on it or flagging it for their attention, to see if I got any feedback. The great thing about my beta-readers is they gave me their candid opinions, so I trusted they would set me straight if need be. What I heard was all favorable; one reader called it the best moment in that part of the book. Looking back, Gemini was right. The break in her emotional strength doesn't make her weak; it makes her stronger – we see her self-awareness, and that she is capable of gathering her wits even in the worst of times and carrying on with the fight.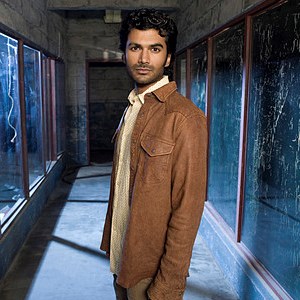 Writers sometimes give casting lists: using familiar faces, often actors or actresses, to show who they had in mind as they wrote. For Wynde I have a few characters who look like someone familiar. In my mind's eye, Guardian Nix Moonrider is Sendhil Ramamurthy, probably best known for playing Mohinder on Heroes. A lot of the other characters don't look like someone in particular, which is fine because as a writer I like to let the readers build the world in their own imaginations.
Certain familiar voices, though, seemed to speak for specific characters. Gemini has a gung-ho toughness about her. She is acrobatic and fearless, and a blonde, so I shouldn't have really been surprised when I realized she sounded like Ashley Eckstein.
The funny thing is, Ashley wasn't the first The Clone Wars actor to play a part in the visual story unfolding in my head that I then translated into prose. One character in particular was always vivid to me. Oggie had a confidence and physicality very much like Alex Keaton on Family Ties, but with the deviousness of Louis Canning on The Good Wife – both characters played by Michael J. Fox. Oggie is right-hand man to Daemyn Wynde. He is a coding genius who helped design the brains for the Wynde-Fireheart family ships. I imagined that Oggie put a little of himself into these designs, and being smaller in stature he had used his voice to model the imposing baritone of the hulking spaceyacht Argus. Then during James Arnold Taylor's one man show at Star Wars Weekends he did impressions of Michael J. Fox in Back to the Future followed by a reading of stereo instructions as spoken as Gandalf. And I thought, "There's my Oggie and my Argus!" Here's a little tease:
"Argus, this is Vespa. Do you read me?"

"Vespa, child of Master Wynde, I hear you." The thick, rich voice resonated as if it came from the Cloud Heaven.

"Argus, Argus, listen…" What did she say? "The port is under attack. Terraq and Gemini are missing."

"Please verify authorization code."

"Are you knarfing kidding me?" Zephyr bellowed.

Vespa waved a hand at him. "Fayti-Aladare-Nono-Georgid-Romas-Evos."

"Verified. Where is your personal communication device?"
Argus is not the only artificial intelligence flying around in Wynde. Vespa's father Daemyn pilots the WyndeStalker, a menacing vessel often co-piloted by Oggie. The WyndeStalker is the earliest iteration of the AI, while WISPER is a much newer generation, designed by Vespa with help from Oggie. WISPER is so compact that she is portable and can move with Vespa from ship to ship. Like Oggie, Vespa used a voice that was familiar to her when designing WISPER's vocal patterns. But Vespa doesn't know, yet, who that voice belongs to. It's one she has heard in dreams, a very important person, a voice that echoes from the past. (Yes, this is a hint for my long-time readers. Now, go speculate!)
Although WISPER doesn't sound like her creator, she does have some of her flippant tendencies, which made her a blast to write. At other times she is the calm voice of reason that keeps Vespa clinging onto survival, so she needed to be able to evoke a serious side to her personality too. Then one day, as I was writing one of these grimmer scenes where WISPER served as Vespa's hope in a tragic moment, I recognized the voice in my head was Cat Taber's. Here's an early scene with WISPER:
Vespa rounded the AB-22 to reach the last connection, a tri-wound data conduit. Vespa flipped up the connection holddown and wrapped her hand firmly around the conduit.

"Have you downloaded the deathcra– er, the opponents' tactical parameters?"

"Of course. I am analyzing them –" Wisper's vocalization program hiccupped when Vespa yanked out the data connection. "I cannot confer with my counterpart if you disable the connection."

"True, but we can't fly with the umbilicals still attached to the ship." Vespa stretched up on her tiptoes to grab the access ladder that was retracted into the craft's hull. After unwinding it, she jumped up onto the first rung and started climbing. "You do realize that Argus has no way of acting on whatever tactical suggestions you make anyway?"

"Certainly. I understand that my benefits require AI-to-pilot interaction. I had been hoping that you were going to request more assistance."

Vespa had spent the last hair-raising minutes thinking that same thing. But Argus' controls simply weren't set up for the type of input Wisper was capable of providing, and having a conversation about it would've wasted time. "Next time,Wis."

Up became down and centrifugal force nearly flung Vespa off the ladder. She held on for dear life, then slammed full body back into the narrow rungs as Argus righted. Trying to resume her ascent, her foot slipped. One hand over the other, she renewed her climb. Finally, she heaved her torso over the edge of the cockpit. "It's your lucky day, though. You've got my full attention now – so spill it."

"My latest assessment, completed ten-point-two seconds ago based on the data available when you initiated my umbilical detachment, would suggest that this is farthest from my lucky day."

Still dangling into the cockpit, Vespa flipped the ignition switch. "I guess I have some work left to do on your sarcasm recognition protocols."

"I believe Master Oggust redirected my ability in that regard after the Tower Control intercept incident. He added a protocol to determine whether you've said the opposite of what you mean."

"That was for fibbing, not irony."

"You mean lying," Wisper countered. The AB-22's control panel flared to life in a mosaic of emerald, white, and sapphire indicator lights. "May I ask why you are initiating the start-up process?"

"Only one reason to do that, Wis. I bet you can figure it –" A boom accompanied a powerful jolt, heaving Vespa from the side of the cockpit. Stretching for a ladder rung, her fingertips slipped and she crashed to the deck. Her head smacked hard enough to clack her teeth together in a bone-jarring crunch. Somewhere aft, a high-pitched irregular whistle indicated atmosphere breaching Argus' hull. Amid the pitching and banking, Vespa struggled to her feet. "Complete the startup. I'll be right back."
The manuscript has been run through the wringer – spell-checks, continuity scrutinizing, and all that editorial fun stuff. Expect more news here in the near future on Wynde. If you would like to be kept up to date, I encourage you to sign up for the Wynde mailing list here.
---
Tricia Barr took her understanding of brand management and marketing, mixed it with a love of genre storytelling, and added a dash of social media flare to create FANgirl Blog, where she discusses Star Wars, fandom, and strong female characters. She also writes about Star Wars for Random House's science fiction and fantasy blog Suvudu.com and Star Wars Insider magazine and is a contributor for Her Universe's Year of the Fangirl.
For updates on all things FANgirl follow @FANgirlcantina on Twitter or like FANgirl Zone on Facebook. At times she tries the Tumblr.