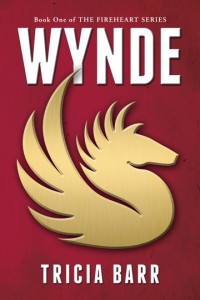 WYNDE is an epic tale that captures the political and visceral dangers of intergalactic war, while relating a young woman's personal struggle to stay true to her family and fulfill her destiny.
A bold flying maneuver won Vespa's team the Airspar Championships during her first year at Kedu Academy. Two years later some, like her father, still say her choice was rash and reckless.
Celebrating her graduation, Vespa awakens amid an alien terrorist attack on the Kavil moon. With the entire human fleet pinned in the port by their own damaged warship, annihilation seems certain until Vespa aims her airblade at the doomed vessel. She intends to retrieve WISPER—a pilot assistance artificial intelligence she created—but its safety protocols, designed by Vespa's father, eject her from the cockpit before she has the chance. While her impulsive decision helps thwart the Orkan assault and saves numerous lives, WISPER's destruction strains the previously deep bond with her father.
Vespa must bear the consequences of her actions while the government of her home planet, Prime, struggles to comprehend the implications of the strike. Relations with their longtime trade partners are further challenged by the arrival of a military task force from the Protectorate, human colonists who had left Prime centuries ago and who bring a far different perspective on the Orkan's intentions.
As the prospect of war grows, Vespa enlists into an elite military unit relying on Protectorate expertise to train spaceblade pilots. But she can't defeat the invaders alone—success will take teamwork. With Vespa uncertain who she can trust and the lives of her family and friends at stake, she must sort allies from enemies and repair her relationship with her father before it is too late. When the Orkans launch an even more vicious attack to seize the Kavil moon, another fateful choice may be inevitable.
WYNDE blends contemporary themes, military science fiction, and romance into a sweeping saga that is sure to please broad audiences who enjoy the fantastical universes of Harry Potter, The Hunger Games, and Star Wars. Its diverse cast, filled with strong female characters, will challenge readers' expectations and biases, while taking them through a rich, moving, and entertaining experience.