On this month's episode of Fangirls Going Rogue, Teresa Delgado and Tricia Barr share listener voicemails and emails, plus congratulatory messages from our fellow podcasters for our first year anniversary. Teresa and Tricia take a look back at our earliest plans and what they achieved. Thanks to Teresa literally chasing down Mary Franklin at Star Wars Weekends, they nabbed their dream interview going into the year.
Talk about an interview to kick off the next year: special guest Star Wars Rebels executive producer Greg Weisman offers wisdom on creating great female characters and insights into working with the Story Group. Tricia has a really fun moment when she explains her analysis of character interaction, that each character has their own gravity, and Greg Weisman says that's spot on. If you listen carefully, you can hear her #fangirlflail. (And yes, that hashtag counts as another amazing accomplishment for this year!) Follow Greg Weisman on Twitter, where you can hear more about his upcoming Kanan comic from Marvel and find out more about his novels. Here is Johnmarie Macias' review of Spirits of Ash and Foam at The Wookiee Gunner.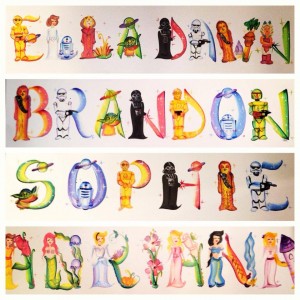 An episode wouldn't be complete without some discussion of Star Wars merchandise. Have you started shopping for your favorite fangirl or fanboy? The Fangirls suggest Think Geek and Her Universe as a place to start. For a special custom gift, try Star Wars Celebration artist Shea Standefer's custom name art. They have a few more awesome ideas in the episode.
The closing character discussion went to the scoundrel side with Han Solo. Did he shoot first? Fangirls Going Rogue wants to hear what you think? Special thanks to Aaron Goins from Star Wars Bookworms for jumpstarting the discussion on Twitter.
Where to find Teresa and Tricia:
Fangirls Going Rogue: @FGGoingRogue
Tricia: @fangirlcantina
Teresa: @icecoldpenguin
Email: fangirlsgoingrogue@gmail.com
Facebook: Fangirls Going Rogue
Tumblr: fangirlsgoingrogue.tumblr.com
Instagram: @FGGoingRogue
Voicemail: 331-21 Ewoks or 331-213-9657
Please go like Rebel Force Radio on itunes and leave a positive review, and in your review mention how much you like Fangirls Going Rogue
Until next time: Yub Yub!