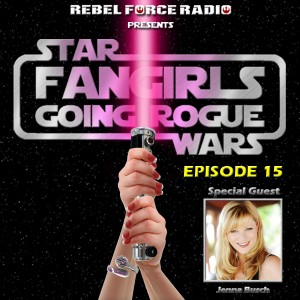 The February 2015 episode of Fangirls Going Rogue is now posted at RebelForce Radio!
It's official! Hosts Teresa Delgado, Tricia Barr, and Sarah Woloski will be appearing on the Podcast Stage at Celebration. Naturally we took some time to start planning our #fangirlflail event. If you have ideas of where, when, or how to showcase the legions of fangirls and their supporters, drop us an email at fangirlsgoingrogue@gmail.com, tweet it, or share a thought on our Facebook page. It is also time to get started on fangirl flair ideas for the convention. Amy Ratcliffe from Geek With Curves and StarWars.com stops by share some ideas like custom jewelry, shoes, or headbands.
Recapping events from last month, Sarah shares the happenings from the first Star Wars runDisney Star Wars Half-Marathon at Disneyland, and Tricia talks about the grand opening of the Rebel, Jedi, Princess, Queen: Star Wars and the Power of Costume Smithsonian touring exhibit in Seattle, where she had a chance to interview Anthony Daniels.
The Fangirls interview Jenna Busch of Legion of Leia, a project that started as a place to highlight female fans of Star Wars and which has now expanded into one of the leading geek-centric websites. The discussion focuses on the male and female fans who have been inspired by Star Wars' leading ladies, and also on the continued trend in merchandise to remove female characters. Check out Jenna's latest article for Metro "Girls Want Superhero Toys, Too." Connect with Jenna Busch on Twitter either at @JennaBusch or @LegionofLeia and on Facebook.
The character discussion doubles down on the fun and focuses on Star Wars couples. While Tricia wears her 'shipper flag proudly, Teresa and Sarah think outside the box for a few of their picks. With the help of the listeners, the favorite Star Wars couple is revealed. As always, the discussion isn't over when the show ends. Drop us a voicemail at 331-213-8657 and tell us who your favorite Star Wars couple is.
Fangirls Going Rogue is available on Shotglass Digital and iTunes or subscribe to the RebelForce Radio RSS feed.
Fangirls Going Rogue: @FGGoingRogue
Tricia: @fangirlcantina
Teresa: @icecoldpenguin
Sarah: @JediTink
Email: fangirlsgoingrogue@gmail.com
Facebook: Fangirls Going Rogue
Tumblr: fangirlsgoingrogue.tumblr.com
Instagram: @FGGoingRogue
Voicemail: 331-21 Ewoks or 331-213-9657
Please like Rebel Force Radio on iTunes and leave a positive review, and in your review mention how much you enjoy Fangirls Going Rogue.