I opened my laptop on my flight from Fort Lauderdale to Atlanta to find the fortune cookie message I stuffed in the crease that reads, "You are a lover of words. Someday you should write a book." Now I can say I have, "officially." As the author of a self-published award-winning space opera, part of me already had put to bed the need to be validated by a publishing house. Another part of myself – the one with quite a few rejection letters – very much enjoyed the thrill of the opportunity to write Ultimate Star Wars for DK Publishing. As with most opportunities, it came at a cost.
Shortly before I had been offered the chance to work on this amazing Star Wars book, my horse Ganner was diagnosed with a significant injury in his hoof. Ganner is my kid, but he's more than that. I have competed at the national level, finishing in the top ten at the Ariat Adult Medal Finals three times. Unlike most of my competitors, those had been on horses that I have borrowed. After the death of my grandfather I had the chance to buy a fancy young horse, who I named after two of my favorite Expanded Universe characters, Ganner Rhysode and Ganner Krieg. It took years of training, landing on my behind a few times, and much mental discipline to become the Yoda to Ganner the Jedi Horse. We were qualifying well; we were on our way to competing together at Nationals when I received the call from the vet. So as Ganner went to surgery, the Force offered me a chance that I never thought I'd have: to write a Star Wars book.
Never in my wildest dreams when I accepted the assignment did I imagine a book launch party at Celebration Anaheim or a book tour. And yet here I am, two days into a tour with a few more cities stretched out ahead.
On Friday I drove to Fort Lauderdale and recorded a segment for NBC's 6 in the Mix for Star Wars Day. Then I drove to Vero Beach for a signing at Books-A-Million. It was a small gathering, and most of the attendees happened upon the event. Being in the midst of casual fans is different after Celebration, but refreshing. Talking with people who weren't immersed in the franchise helps keep perspective. I met young fans, and an older gentleman who told me about the line around his theater in 1977 that stayed filled for weeks after the opening. He first saw Star Wars a month after the movie opened when the line thinned to only a couple hours long. Another man entered the store wearing a Star Wars shirt and expressed his concern about Disney's stewardship of the franchise. I told him, "I believe we're in the best hands possible."
Fashion choices for Friday were a Her Universe Millennium Falcon skirt, black top, and X-wing cardigan with a Millennium Falcon necklace.
"Chewie, we're home."
~Han Solo in The Force Awakens
Saturday morning I packed ten days of food to ship off to Ganner at his wonderful home away from home for rehab, finished editing and uploading an amazing episode of Fangirl Chat with Teresa Delgado, sent a couple of emails, rode a little project pony I have been playing with to keep in riding shape, and then packed my bags.
In the afternoon I returned to Fort Lauderdale for a signing at Books-A-Million in the Sawgrass Mall. You can get lost in it; I know – I almost did. The mall is an enormous international destination. I had a chance to meet fans from Germany, Argentina, and Costa Rica, reminding me how global (and universal) Star Wars is.
During the signing I met a young lady named Jaina. Her mother is a school teacher who uses Star Wars Rebels to teach civics. We had a chance to recruit quite a few new Rogues for Star Wars in the Classroom. In fact, I had a lot of opportunities to talk about the education project. I resisted the urge to hug Jaina to pieces, because no matter what happens in the future, Jaina will be able to tell people she was named after a character that meant a lot to her mother.
Another young lady approached my table and told me she was so excited. I asked her if she was a fan, and instead of telling me she showed me her phone covered in Yoda stickers. I would call that a mini-#fangirlflail.
A lot of parents noted, when I asked about Star Wars Rebels, that it was inaccessible to them on DisneyXD. They were waiting for Netflix or another channel. So I saw a lot of smiles when I told them to check out StarWars.com this weekend, where it was available.
Talking to the young ladies who worked at the bookstore, I gained a new found appreciation for what Domhnall Gleeson brings to The Force Awakens. I had no idea he was that much of a heartthrob. But two thumbs up from the next generation of fangirls.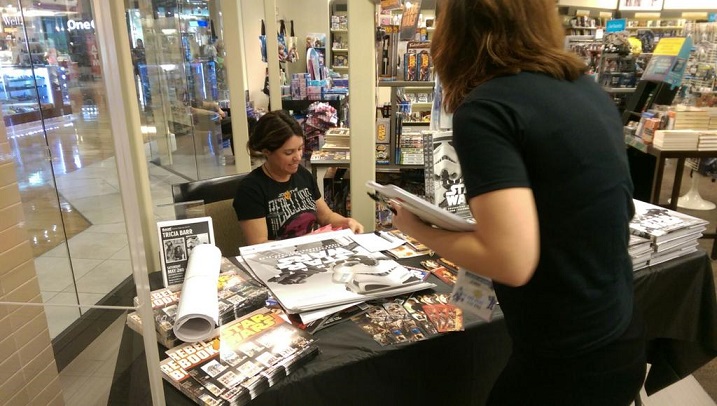 Today's fangirl flair: Her Universe "Join the Rebellion" Sabine helmet top, a Firebird necklace found on Etsy thanks to a discussion on my podcast Fangirls Going Rogue, and customized Keds featuring a sketch of Sabine drawn by Dave Filoni and some words of inspiration. Traveling attire for my flight to Atlanta included my X-wing shirt I bought at the EMP Museum, the We Love Fine Star Wars galaxy jacket, and Vans Star Wars shoes.
As part of my travels I always record a storytelling journal: things I notice that can make my storytelling better. Today I watched the four-man team backing out the plane from the gate and thought of all the people it takes to launch the "best friggin' pilot in the galaxy" into space. One of my writing heroes, Aaron Allston, had a knack for putting the everyperson into his stories.
The playlist on my iPod is Backstreet Boys. What I have learned from them after a few years of fandom: fangirls can make you a lot of money over a long spread, especially if you understand what they want.
My offer of gratitude today goes to Sadie Smith at DK Publishing for giving me a chance and Patti Gail at Amber Glen Equestrian Wellness Center for bringing Ganner the Jedi Horse back to health while keeping him very happy.
For more on the Ultimate Star Wars Book Tour check the tour site. Tweet it with the official hashtag #RebelsRead.
Tonight's writing includes an assignment for Star Wars Insider and redlining the Wynde prequel Zanita, by FANgirl editor B.J. Priester. You all are going to love it!
---
Tricia Barr took her understanding of brand management and marketing, mixed it with a love of genre storytelling, and added a dash of social media flare to create FANgirl Blog, where she discusses Star Wars, fandom, and strong female characters. She is one of four authors on the upcoming Ultimate Star Wars from DK Publishing, has written several feature pieces for Star Wars Insider magazine and is a contributor for Her Universe's Year of the Fangirl. Her FANgirl opinions can be heard on the podcasts Hyperspace Theories and RebelForce Radio Presents Fangirls Going Rogue.
Tricia Barr's novel, Wynde, won the 2014 Independent Publisher Book Award Gold Medal for Best Science Fiction/Fantasy/Horror Ebook. She was also part of Silence in the Library's successful all-female creator science fiction and fantasy anthology Athena's Daughters, which is available now. For excerpts and tales of her adventures in creating a fictional universe, hop over to TriciaBarr.com.
For updates on all things FANgirl follow @FANgirlcantina on Twitter or like FANgirl Zone on Facebook. At times she tries the Tumblr.