I already have had so many retweets and shares on Facebook to help my novel Wynde gain exposure that it would be impossible to thank everyone individually. A few quick shout-outs to blogs and friends.
Roqoo Depot shared the publication in their weekly Around the Web post. These posts have tons of information for Star Wars, and little tidbits about Star Wars VIPs and their happenings, that I don't often see elsewhere. So check it out!
Over at her blog This Is What Comes Next, FANgirl contributor Priya Chhaya did her year in review and noted one of the things she was looking forward to: Wynde! Priya's blog is full of hope, optimism, and really smart stuff. She also served as one of the novels alpha readers, giving insight and thoughts on the novel as I passed each of the five parts along.
Some of my fellow Athena's Daughters co-authors: Conley Lyons gave Wynde some page time on her blog A hero goes on a journey. A stranger comes to town. Love the name of the blog! Jean Marie Ward gave the book a shout-out on her Facebook page.
The Bearded Trio put Wynde up on the sidebar of their main page! They cover George Lucas, Steven Spielberg, and John Williams. If they aren't on your list of blogs to check out, maybe they should be.
Last month, Lily Morgane from the French website Madly Girly Geeky contacted me for an interview. They asked me about being a fangirl who speaks my mind, fandom, fan fiction, and also Wynde. The first part of the interview is up. Here's the English version posted at Lily's personal blog.
A couple of friends really stepped it up, and I feel they need special mention. James Floyd of Club Jade and Big Shiny Robot featured Wynde in the opening of his "What's in the organic farm fresh delivery box?" video.
More support came from alpha readers Erich Schoeneweiss of Del Rey and FANgirl contributor Kay, who broke down the fourth wall.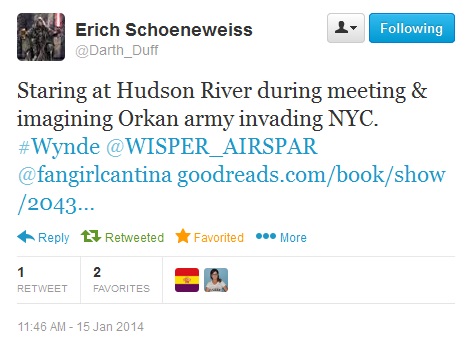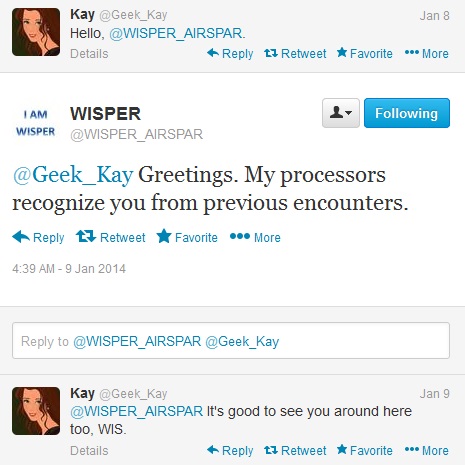 Don't forget to give WISPER a follow on Twitter. She will have some intel on the book that won't be seen between the covers. As always, you can check out Wynde here, including reviews and places to buy. More options will be coming soon. If you have read the book, please be sure to rate it and leave a review (even short ones help).
Thanks for all the support and feedback. More fun things coming about Wynde and the Fireheart Series in the next couple of months.
---
Tricia Barr took her understanding of brand management and marketing, mixed it with a love of genre storytelling, and added a dash of social media flare to create FANgirl Blog, where she discusses Star Wars, fandom, and strong female characters. She also writes about Star Wars for Random House's science fiction and fantasy blog Suvudu.com and Star Wars Insider magazine and is a contributor for Her Universe's Year of the Fangirl. Her FANgirl opinions can be heard on the podcasts Assembly of Geeks and RebelForce Radio Presents Fangirls Going Rogue.
For updates on all things FANgirl follow @FANgirlcantina on Twitter or like FANgirl Zone on Facebook. At times she tries the Tumblr.