Day Three of the Ultimate Star Wars book tour started with brunch with a pair of fangirls I have admired: Paula Rosenberg and Kelly Adams. If you attended a panel at the Behind the Scenes Stage at Celebration Anaheim hosted by RebelForce Radio's Jason Swank and Jimmy McInerney, then you have been under the watchful guise of Paula. Likely, if you've attended any Celebration she has helped ensure you had a pleasant con experience.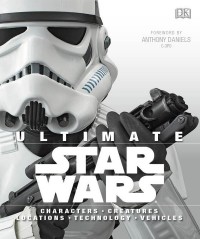 Kelly was one of the earliest female reporters in the Star Wars fandom that I remember. When I leapt into the Twitterverse, I followed Paula's (@rosiewook) and Kelly's (@yodaprncss) lead on the workings of social media, as well as looking to them for inspiration for participating in Star Wars as more than just a fan. Brunch at the Corner Café was delicious, as was the Star Wars-centric discussion. Although we all attended Celebration Anaheim, each of us had very different experiences. It was fun to share with each other.
Later that day, Kelly and Paula joined Sarah Dempster on a couch at Little Shop of Stories for a Star Wars Day party. (We were a day early, but who's counting?) The festivities included Han Rolos, That's No Moon pies, and Dagobah Dip, all washed down with Vader Punch. Activities for kids and a costume contest got the party started. While Han Solo led the contest in number of entries, a Princess Leia cosplayer stole the hearts of the voters. Host Kimberly did an amazing job of keeping the younglings entertained, and after the trivia contest she gave me a #fangirlflail worthy introduction for a short talk on Ultimate Star Wars.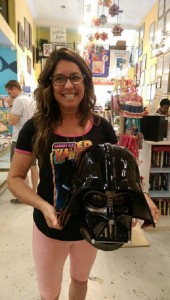 The whole vibe of the bookstore event was amazing. The signing was organized by tickets, and fans had plenty to do while they waited. Afterward I had a great time talking to and posing with the cosplayers from the Georgia Garrison of the 501st Legion. Holding Darth Vader's helmet in my hands proved a weighty experience. At the end of the signing I also had a chance to meet Brandy, who manages the Star Wars track for Dragon Con, of which I have only heard great things.
The day closed with me hopping a plane to Arizona and pondering how amazing it is for children growing up right now to be participating in a new era of Star Wars. Luckily, the first generation – the Paula's, Kelly's, Kimberly's and Brandy's of the fandom – is hard at work making sure fankids of all generations have fun.
For more images from Sunday, check out my Fangirl Zone Facebook page.
My playlist for the evening flight was the Fireheart Series mix. Vespa's heroine's journey is still percolating in my mind, mostly because I am working edits on her father and mother's story Zanita, written by B.J. Priester. Giving the story time has allowed B.J. and me to work in some neat parallels and do a fair amount of foreshadowing that will hopefully inspire rereads. That is what I love in fiction, and always appreciate when authors go through the extra effort.
My storytelling observation of the day came by way of the big sports television draw on Saturday. Between the Pacquiao-Mayweather fight, the Kentucky Derby, and NBA playoffs, the news was dominated by these events. Sports are important to our society, and gladiator sports like boxing, horse racing, and NASCAR are still as prominent in our times as back in the era of the Roman Empire. While I did a soft sell on the AIRSPAR racing in my award-winning novel Wynde, the gladiator-level appeal and danger of the sport will come to the fore in B.J.'s prequel Zanita and more so in the Wynde sequel, Sky Fall Down. I am very excited to expose more of the worldbuilding that took place in advance of creating the Fireheart universe.
Thanks, Atlanta, for a wonderful time!
---
Tricia Barr took her understanding of brand management and marketing, mixed it with a love of genre storytelling, and added a dash of social media flare to create FANgirl Blog, where she discusses Star Wars, fandom, and strong female characters. She is one of four authors on the upcoming Ultimate Star Wars from DK Publishing, has written several feature pieces for Star Wars Insider magazine and is a contributor for Her Universe's Year of the Fangirl. Her FANgirl opinions can be heard on the podcasts Hyperspace Theories and RebelForce Radio Presents Fangirls Going Rogue.
Tricia Barr's novel, Wynde, won the 2014 Independent Publisher Book Award Gold Medal for Best Science Fiction/Fantasy/Horror Ebook. She was also part of Silence in the Library's successful all-female creator science fiction and fantasy anthology Athena's Daughters, which is available now. For excerpts and tales of her adventures in creating a fictional universe, hop over to TriciaBarr.com.
For updates on all things FANgirl follow @FANgirlcantina on Twitter or like FANgirl Zone on Facebook. At times she tries the Tumblr.