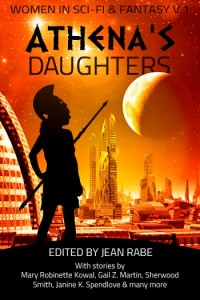 It's been pretty busy lately, and sometimes it seems with not much to show for it. At times this is a function of having many works-in-progress. I did get to review the final manuscript for the all-female produced science fiction and fantasy anthology Athena's Daughters. I was thrilled to see my story "Mission Accomplished" alongside so many other great submissions. If you missed the Kickstarter, the anthology is still available for pre-order with a scheduled July release.
"Mission Accomplished" gave me a chance to tell more of the story for my novel Wynde's secondary heroine Gemini Reed. I used the short story format to practice writing in different tenses. For my upcoming straight to ebook short stories set between Wynde and the second Fireheart Series novel Sky Fall Down, I will be using first person. More on that, and other really cool news, in the near future. Until then, here is a sneak peek of "Mission Accomplished" follows:
With a slight head start, Ta'ish takes off over the dunes and follows the trail to the left. While the rendezvous point has not yet been determined, that one is the most direct path toward the upland slope to the ridges where the VLC can put down to wait for them. Veering to the right, Gemini studies the tracks in the sand. The footprints on either side are enormous, and the indentation from the droc's swollen torso is almost a meter and a half wide.

She crashes into the jungle line, taking a palm frond to the face despite using the rifle to deflect it. Jumping over downed trees at a dead run, Gemini hopes the dense undergrowth will slow the beast down. If she can find it quickly, she can use her rock-climbing skills to get straight up to the ridge.

The droc's path quickly becomes difficult to track under the canopy. Snapped branches are low. Footprints aren't as easily recognizable in the detritus of the jungle floor. Gemini switches to infra-red vision, and remembers that Aven will be monitoring her progress via her info-lenses' feed. Maybe this is a test? Perhaps Lyssa Shrine had reported her emotional breakdown earlier this morning to Admiral Bernaden after all? He had said he had signed two commendations for her, yet, nothing had been mentioned about it after they had returned to the Selkoo.

The jungle opens up. Gemini bursts into a clearing. The infra-red path ends abruptly in a swath of meandering cool blue.

"A knarfing stream?" Gemini hisses. She switches to regular vision in her left eye.

It doesn't take her long to determine the droc has headed off to the left. Gemini darts into the shrubbery, hopping over a low limb, ducking under another. Determination to prove herself drives her feet faster, but she is equally aware to be careful not to alert the creature of her approach. Concerns about Ta'ish's progress niggle at her concentration. The phantom voice of Master Sintu admonishes his former pupil to only worry about what she can control in the present.

An orange spot on her right info-lens indicates a heat signature. She blinks twice and brings up full infra-red. Gemini smiles victoriously at the golden-green impressions ahead that must be footprints – then gasps as scarlet spreads across her vision from her right side. Diving, she hears the scrape of tail spines along her shoulder armor and the snap-clack of teeth gnashing together hungrily.
---
Tricia Barr took her understanding of brand management and marketing, mixed it with a love of genre storytelling, and added a dash of social media flare to create FANgirl Blog, where she discusses Star Wars, fandom, and strong female characters. She also writes about Star Wars for Random House's science fiction and fantasy blog Suvudu.com and Star Wars Insider magazine and is a contributor for Her Universe's Year of the Fangirl. Her FANgirl opinions can be heard on the podcasts Assembly of Geeks and RebelForce Radio Presents Fangirls Going Rogue.
Follow Tricia at @FANgirlcantina on Twitter or like FANgirl Zone on Facebook.