This weekend, science fiction's prestigious Hugo Awards were presented at Loncon 3. From Charlie Jane Anders' recap at io9:
This was really a year that underscored that a younger generation of diverse writers are becoming central to the genre and helping to redefine and expand it. In particular, Leckie beating The Wheel of Time, Chu's inspirational speech and Hurley's double victory felt like a sea change.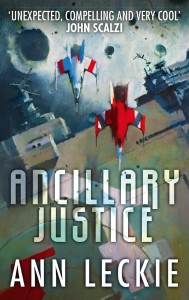 Ancillary Justice by 48-year-old American Ann Leckie won Best Novel. This debut novel also has won the Nebula Award and Arthur C. Clarke Award. It is a space opera with a female protagonist that relies on in media res to unfold the narrative. This storytelling technique of learning as the reader goes along is utilized in the Star Wars movies, but became underutilized in Star Wars prose when the novels began to rely heavily on existing knowledge of the galaxy far far away and its lore.
Other notable wins were Sofia Samatar for the Campbell Award for Best New Writer; Sarah Webb for Best Fan Artist; "The Water That Falls On You From Nowhere" by John Chu (Tor.com) for Best Short Story; "The Lady Astronaut of Mars" by Mary Robinette Kowal (Tor.com) for Best Novellete; the movie Gravity for Best Dramatic Presentation, Long Form; Ginjer Buchanan for Best Editor, Long Form; and Ellen Datlow for Best Editor, Short Form.
Winner of the Best Semiprozine, Lightspeed Magazine, ran the highly successful Kickstarter for Issue #49: Women Destroy Science Fiction, which was featured here at FANgirl.
Winner of Best Professional Artist, Julie Dillon, is currently running a Kickstarter for Imagined Realms: Book One that will feature diverse fantasy art. The project already has more than doubled its funding goal of $15,000. There is still time to get on board. Dillon's work is beautiful. I encourage everyone to check it out.
Best Fanzine was awarded to A Dribble of Ink, edited by Aiden Moher. The beautiful banner art is by Dillon, and that's not the only relationship the blog has with other winners.
Kameron Hurley won Best Fan Writer and Best Related Work for "We Have Always Fought: Challenging the Women, Cattle and Slaves Narrative," which was posted at A Dribble of Ink. Hurley's award-winning post about the perpetuation of negative gender stereotypes through storytelling was featured in Fangirls Around the Web: May 30, 2013. At the time it resonated with this blog's ongoing message about the perpetuation of tropes through Star Wars. Kameron Hurley is a bright star in the world of blogging, and the FANgirl staff has followed her writing with interest. Hurley was one of many notable voices in the science fiction community who spoke up after Star Wars author Paul Kemp sparked outrage with his not-open-for-discussion posts and social media lectures about masculine storytelling. Hurley was not present in London to accept her award, but she sent along an acceptance speech that was read at the awards (via The Guardian).
I'm told blogposts don't matter. I'm told words don't matter. I'm told this by storytellers who know that the only thing that matters is words and the ideas we convey with them. I'm told this by storytellers with a deep fear of people ranting on the internet. Fans and pros write for all sorts of reasons, chief among them being love.

I write for free online, out of love, passion and often rage. Rage that the very stories I love punch me in the face. Rage that storytellers, many of them my colleagues, grind to dust my most fervent hopes and desires for a future that includes me and others like me. It was this rage, I thought, that would preclude me from ever being nominated for a Hugo.

Science fiction does not like change. Creators don't like being called out on their BS. But looking out at my fellow nominees, whose own work I admire so much, I suspect that it is this rage and this desire for positive change that is fuelling our future. Thank you all for championing the voices of myself and my fellow nominees.
You can check out both of Hurley's acceptance speeches at her website, or read her Hugo Award-winning post linked below.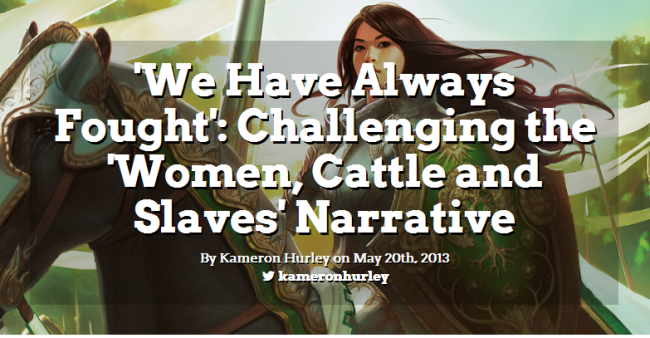 Related posts:
---
Tricia Barr's novel, Wynde, won the 2014 Independent Publisher Book Award Gold Medal for Best Science Fiction/Fantasy/Horror Ebook. She was also part of Silence in the Library's successful all-female creator science fiction and fantasy anthology Athena's Daughters, which is available now. For excerpts and tales of her adventures in creating a fictional universe, hop over to TriciaBarr.com.
For updates on all things FANgirl follow @FANgirlcantina on Twitter or like FANgirl Zone on Facebook. At times she tries the Tumblr.