Two days from today, From a Certain Point of View: A Diversity of Opinions in Star Wars will be something that has happened. Be sure to check out the hashtag #SWDiversity while it's happening.
The amazing panelists have already done their homework by filling out a questionnaire, and I can safely say we have an amazingly diverse set of opinions about the various questions the saga poses. Without further ado, here is the panel:
---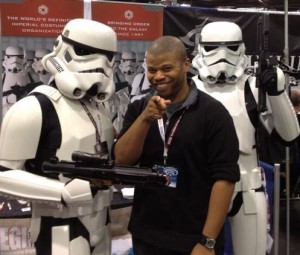 .
Justin Bolger writes for popular Star Wars website TheForce.Net and hosts their flagship podcast, The ForceCast. He is also the host and creator of the Star Wars podcast commentary series Star Wars With Friends. An ardent supporter of Palpatine and the Galactic Empire, he enjoys liberating planets in the name of peace and justice… in a variety of video and tabletop games, of course. Justin is also the founder of the ApexFan Audio network of podcasts, covering a variety of other genre worlds and stories such as The Walking Dead, Game of Thrones, and Doctor Who. You can find him on Twitter @TheApexFan.
.
---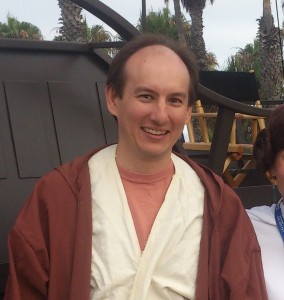 .
James Floyd is a lifelong Star Wars fan who writes as jawajames for Club Jade and does comic reviews as GONK for BigShinyRobot.com. He has one of the smallest official contributions to the Star Wars Expanded Universe, and is now a stay-at-home dad. James also co-coordinates the Bounty Hunt at Star Wars Celebration and is active in the San Diego sci-fi fan scene. Find him on Twitter @jamesjawa.
.
---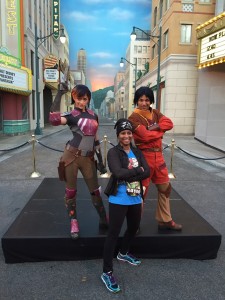 .
Linda Hansen-Raj is a Spine and Sports Medicine physician, yoga teacher, equestrian, writer, and mom who lives in Silicon Valley. She is FANgirlblog's Sith Inquisitor, which means she's been able to meet and interview a lot of really neat Star Wars-related people. As a mom, her perspective is not only as a fan and also as a parent, especially how media affects young women. You can read her on FANgirl Blog and follow her on Twitter @lindahansenraj.
.
---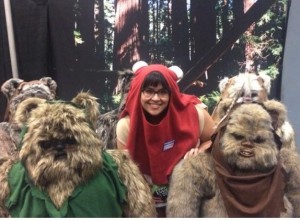 .
Meg Humphrey is a Seattle-raised nerd from birth with a never-ending list of projects and passions. You can hear her talk about Star Wars on the Far Far Away Radio podcast. She is a contributor at the blog Have You Nerd, on the convention staff at GeekGirlCon and Sakura-Con, runs an Etsy shop called Force Apparel, and enjoys participating on panels at conventions all around the Northwest. You can follow her on Twitter @tspofnutmeg or on Instagram @jedimastermeg.
.
---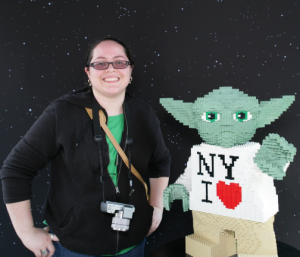 .
Johnamarie Macias is just a simple fangirl trying to make her way in the universe. She has always been a Star Wars fan, but became more involved with the fan community after falling in love with Star Wars: The Clone Wars. She enjoys creating crafts inspired by the galaxy far, far away and fangirling over clone troopers, especially Captain Rex. Johnamarie is the keeper of TheWookieeGunner.com, where she writes and fangirls about Star Wars. She's also a content contributor for MakingStarWars.net, StarWarsReport.com, and FangirlNextDoor.com. You can catch her giggling and fangirling on Now, This Is Podcasting and Rebels Chat. If you're looking to flail and share your Star Wars feels, you can connect with her on Twitter, Instagram, Facebook, and Tumblr.
.
---
.
Jay Shah
is a founding member and contributor to Eleven-ThirtyEight.com, where he writes about EU lore, portrayals of the Empire, politics as seen in the EU, and gender diversity in writing and the fandom. He is also a moderator and prolific poster at TheForce.Net's Jedi Council Forums, where he helps run the Literature and Community forums. He sometimes acts like an Imperial propagandist and other times is pretty critical of villainy, depending on when the mood strikes. Either way, the history, politics, and worldbuilding of Star Wars lore are his favorites. He's not that great at social media, but you can find him on Twitter.
.
---
For updates on all things FANgirl follow @FANgirlcantina on Twitter or like FANgirl Zone on Facebook. At times she tries the Tumblr.