Kay, BJ and I recorded our latest Hyperspace Theories shortly after the season finale Star Wars Rebels. We ended up with so much to say that we've split our discussion into two episodes. In the previous show, we talked about Dave Filoni's influence as a foundational creator of Star Wars stories, and speculated on the impact of his involvement as Lucasfilm continues to move the franchise forward.
In this episode, we begin with the world-building segment, Hyperspace Calculations. We consider the entire first season of Rebels to evaluate the choices made by the storytellers in building the small slice of the galaxy where the series begins its tale. Much of season one took place on Lothal for budgetary reasons, to allow assets to be reused across multiple episodes.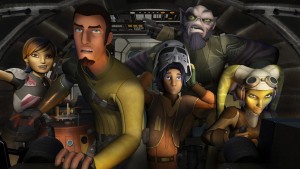 We agree it works for the series, though, as the story starts smaller before the Ghost crew gradually becomes part of a larger Rebellion as the series moves forward. The existence of a Jedi temple on Lothal, though, was a little too convenient to avoid skepticism. We praise the world-building of the Imperial adversaries for the heroes, as well as the manner in which iconic Star Wars characters were weaved into the plot without detracting from the Ghost crew as the core of the series.
The storytelling segment looks ahead to the second season of Rebels, speculating on where the creators might take the series in the aftermath of season one. Topics include the story arcs for the Ghost crew, when we might learn more about Hera's and Sabine's backstories, and the role of Ahsoka Tano and other rebels in the show. We also consider the implications of Darth Vader's appearance, and who might be the primary antagonist in the second season.
With the rest of the episode discussing Rebels, the Plot Bunny Giveaway involves Rebels ideas, too.
Finally, check out B.J.'s Season One Review of Rebels if you missed it.
You can also listen to Hyperspace Theories at Libsyn or download the show there. Or subscribe on iTunes.
---
Hyperspace Theories is now on Twitter @HyperspacePod!
Tricia is @FANgirlcantina on Twitter, as well as posting at FANgirl Zone on Facebook and on Tumblr.
Kay tweets @Geek_Kay.