The April 2015 episode of Fangirls Going Rogue is now posted at RebelForce Radio. We welcome Ashley Eckstein, the voice of Ahsoka Tano, to the show to talk about Celebration.
Inevitably the discussion turns to cupcakes – there will be specialty cupcakes for purchase at the Her Universe booth #934 – and Star Wars merchandise. After you listen to the episode, check out the preview of the geek chic that will be available at Celebration and online. For Marvel fans, here's Lisa Granshaw's article over at Daily Dot that previews the Her Universe/Hot Topic rockabilly-inspired line designed by the SDCC Fashion Show winners Andrew MacLaine and Amy Beth Christenson. (Christenson should be a familiar name for Star Wars Rebels fans.)
Tricia Barr, Teresa Delgado, and Sarah Woloski discuss upcoming festivities and appearances at Celebration Anaheim. Fangirls Going Rogue will be appearing at the Podcaster Meet-up Thursday at 6:30 PM in the Hilton Lobby and also the Podcast Stage Saturday at 3:00 PM. Tricia Barr will also be hosting From A Certain Point of View: A Diversity of Opinions in Star Wars on Sunday at 10:30 AM.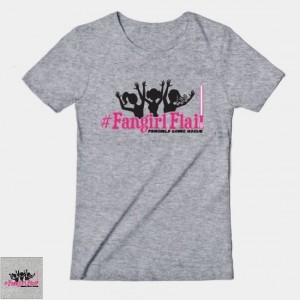 We are open to any and all opportunities to #fangirlflail at the convention. If you have ideas of where, when, or how to showcase the legions of fangirls and their supporters, drop us an email at fangirlsgoingrogue@gmail.com, tweet it, or share a thought on our Facebook page.
Amy Ratcliffe returns to wrap up our Fangirl Flair three-part piece and share her experience getting glitter-bombed by Carrie Fisher. Speaking of flair, check out the selection of amazing Fangirls Going Rogue t-shirts!
Cad Bane prevailed as the bounty hunter favorite as chosen by the fans for the character discussion. As always, the discussion isn't over when the show ends. Drop us a voicemail at 331-213-8657.
Fangirls Going Rogue is available on Shotglass Digital and iTunes or subscribe to the RebelForce Radio RSS feed.
Fangirls Going Rogue: @FGGoingRogue
Tricia: @fangirlcantina
Teresa: @icecoldpenguin
Sarah: @JediTink
Email: fangirlsgoingrogue@gmail.com
Facebook: Fangirls Going Rogue
Tumblr: fangirlsgoingrogue.tumblr.com
Instagram: @FGGoingRogue
Voicemail: 331-21 Ewoks or 331-213-9657
Please like Rebel Force Radio on iTunes and leave a positive review, and in your review mention how much you enjoy Fangirls Going Rogue.