Fangirls Around the Web is a series that spotlights fangirls and their real and fictional heroines. Check out what we've spotted over the last couple of weeks:
Awesome women of SFF
Author N.K. Jemisin wrote an amazing blog post titled "Confirmation bias, epic fantasy, and you" that is not to be missed. At Tor.com, Leah Schnelbach has a great piece titled "SFF Writing Advice from io9's Charlie Jane Anders."
Marvelous Women
Marvel editor Sana Amanat, who oversees Ms. Marvel and Captain Marvel, among other titles, made a fantastic presentation titled "Myths, Misfits & Masks" at the fifth TEDxTeen conference. TheMarySue shared an exclusive preview of Ms. Marvel #3.
Pretty Sure Ladies Read Comics, Too
At Comic Book Resources, Phil Jimenez discusses the importance of diversity in comics. And Janelle Asselin writes about "Anatomy of a Bad Cover: DC's New "Teen Titans" #1."
Film Definitely Needs More Women!
Variety reports on the latest job numbers from the Writer's Guild of America, showing that woman and minorities are losing ground in film work but making small gains in television.
Don't miss the latest Malificent trailer from Disney. Deadline reports that Sofia Coppola has been hired to direct Universal Picture's upcoming live-action version of The Little Mermaid. The Huffington Post reports that "'The Lego Movie 2' Director Wants More Strong Women In Sequel."
IndieWire's Women and Hollywood section discusses a petition that was launched seeking the inclusion of Katniss Everdeen in the Best Hero category in the upcoming MTV Movie Awards.
The Washington Post reports on "Kirsten Dunst's latest role: Unlikely warrior in continuing gender debate."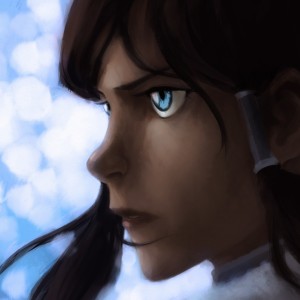 Joss Whedon Already Knows Film Needs More Women…
Nicole D'Andria writes about why "Buffy the Vampire Slayer: One of the Most Influential Shows EVER." Blastr presents an exclusive interview with actress "Jewel Staite on why 'I'll be a Browncoat forever.'"
Korra!
IGN shares an exclusive reveal of the DVD/Blu-ray release date, and the extras, for The Legend of Korra: Book Two: Spirits.
This Is Why Fangirls Are Awesome:
At The Wookiee Gunner, Johnamarie Macias wrote a great post about the women in The Lost Mission episodes of The Clone Wars.
The latest Her Universe Fangirls of the Day are: Esther, Kayla, Kelly, Rosemary, Denise, Brandy, Shalynne, Patricia, Colleen, Amy, Debbie, Katie, Amber, Angela, Sian, Kathryn, Brianna, Lisa, Heidi, Puck, Rachel, Sarah, Kami, Emily, Lauren, Sophia, Northey, Amy, Jennifer, Amanda, Juliet, Megan, and Bethany. My co-host at Fangirls Going Rogue, Teresa was featured on April 8th.
FANgirl contributor Mary shares the following: Kevin LaPorte's InversePress.com is presenting a new online serial comic by spinning off a popular character from one of their print comics. Nothing unusual about that, except that the story is being told through reveals of twelve original art prints by our friend Amanda Rachels. I think this is a great concept, combining a comic book story with the opportunity to buy (at a reasonable $10 price) a dozen gorgeous 11×17 prints (limited to editions of 50 each). Take a look if you have a minute.
---
Tricia Barr took her understanding of brand management and marketing, mixed it with a love of genre storytelling, and added a dash of social media flare to create FANgirl Blog, where she discusses Star Wars, fandom, and strong female characters. She also writes about Star Wars for Random House's science fiction and fantasy blog Suvudu.com and Star Wars Insider magazine and is a contributor for Her Universe's Year of the Fangirl. Her FANgirl opinions can be heard on the podcasts Assembly of Geeks and RebelForce Radio Presents Fangirls Going Rogue.
Follow Tricia at @FANgirlcantina on Twitter or like FANgirl Zone on Facebook.